Contributed by tj on from the breathing-underwater dept.
October 18th, 2015: The OpenBSD team marks the
20th anniversary
of the project today with the general availability of OpenBSD 5.8.

We are pleased to announce the official release of OpenBSD 5.8.
This is our 38th release on CD-ROM (and 39th via FTP/HTTP).  We remain
proud of OpenBSD's record of twenty years with only two remote holes in
the default install.

As in our previous releases, 5.8 provides significant improvements,
including new features, in nearly all areas of the system: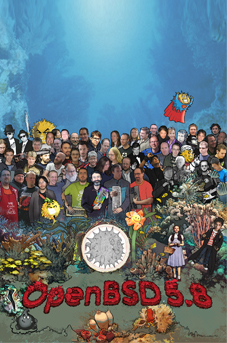 The release page lists many of those improvements, and a more detailed changelog can be seen here. New hardware support has been added, security enhancements have been made, many base daemons have been updated and much more. Of particular interest is the replacement of some third party utilities with homegrown alternatives: sudo has been removed in favor of the much simpler doas(1), and file(1) has been completely rewritten with sandboxing and privilege separation. Looking forward, more network SMP groundwork is in place, and some initial pledge(2) support can be found as well. Expect big improvements in these two areas when 5.9 drops next May, with pledge calls throughout the userland likely being a big highlight.
To commemorate the anniversary, four songs accompany this release: 20 Years Ago Today, Fanza, So Much Better and A Year in the Life. The main artwork for 5.8 (also available as a poster) features the faces of many past and present OpenBSD developers, as well as others who have been involved with the project over the last two decades. The CD set includes a list of names to cross-reference with the image if you're curious as to who's who.
The full announcement text can be found here. Be sure to check the errata page and apply any post-release fixes that didn't make it in time for the builds. Happy upgrades!
---
Comments

Comments

By Noryungi (noryungi) on

By Anonymous Coward (70.70.146.217) on

By Anonymous Coward (23.91.115.123) on

Comments