Contributed by dhartmei on from the axe-grinding-living-dead dept.
Many thanks to
Marcus Glocker
for sending his report:
The fourth EuroBSDCon, which was held from November 25th to 27th 2005 at the University of Basel, Switzerland is over now. It was a very nice and interesting event. Totally 224 people from 27 countries attended. I try to track down roughly what happened in some words for those who couldn't attend.
Day One, Friday
Friday was Tutorial day. We had four different Tutorials running:
Parallel to the Tutorials the FreeBSD Summit was held in a conference hall on the same floor, which started on Thursday already. Max Laier reported recently that it has been a very productive two-day DevSummit. For lunch we went to a restaurant near the campus, where we had the chance to make first contact with new faces, talking to the known suspects and enjoying lunch. At about 17:00 o'clock the Tutorials were finished, and we closed the first conference day with a nice apero at the University, discussing the visited Tutorials and other topics.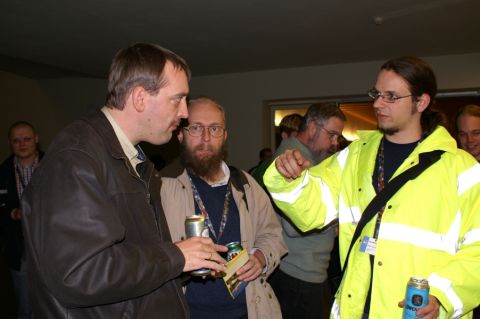 Reyk explaining something at the Tutorials Apero
As people who are visiting Switzerland mostly want to eat Cheese Fondue, a bunch of about twenty OpenBSD fellas went for Cheese Fondue dinner on Friday evening at a restaurant near the Hotel Europe, where a lot of the attendees were placed.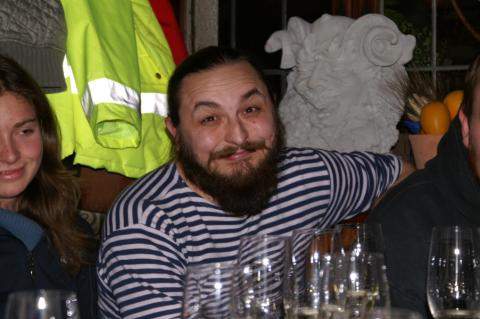 mickey at the Cheese Fondue dinner on Friday evening
Day Two, Saturday
On Saturday the rest of the attendees arrived to register and received their conference pack which included the Proceedings book with all Talks, an actual iX magazine, some other stuff you need for conferencing, and a cool looking EuroBSDCon 2005 T-Shirt.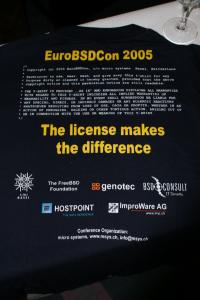 EuroBSDCon 2005 T-Shirt
The conference was openend with a Welcome Session where Vera Hardmeier and Marc Balmer said some words, and André von Raison (iX magazine) and Prof. Dr. Christian Tschudin (Computer Sience Department, University Basel) were telling us why they don't use BSD Operating Systems. André von Raison also encouraged people who are interessted in writing articles for the iX magazine, with more BSD specific topics, to get in touch with him. Poul Henning-Kamp closed the Welcome Session with a brief and humorous history of BSD and a conclusion how it comes that other Operating Systems are more wide-spread than BSD. To quote him: "We BSD people are an elite bunch of snobs!". The question, if it is actually worth to grow to larger dimension, like some other Operating Systems, was kept open.
Afterwards the twelve talks for Saturday started, running in two parallel tracks:
Signal Handlers, Henning Brauer
Singel User Secure Shell, Adrian Steinmann
Network Stack Randomness, Ryan McBride
Complete Hard Disk Encryption Using FreeBSD's GEOM Framework, Marc Schiesser
Improving TCP/IP Security Through Randomization Without Sacrificing Interoperability, Michael J. Silbersack
A Machine-independent Port of the MPD Language Runtime System to NetBSD, Ignatios Souvatzis
New Evolutions in the X Window System, Matthieu Herrb / Matthias Hopf
The Design and Implementation of OpenOSPFD, Claudio Jeker
Remote User Access VPNs, Emmanuel Dreyfus
Building Robust Firewalls with OpenBSD and PF, Ryan McBride
FreeBSD's Multi-Processor Network Stack, Robert Watson
Failover Mechanisms for Filtering Bridges on the BSDs, Massimiliano Stucchi
When the time allowed me, beside organizing stuff, I also attended some Talks. The Talks were well prepared and of high quality.
To pick out one of my favorite Talks; Ryan McBride's Building Robust Firewalls with OpenBSD and PF. We were all sitting in the main conference hall and Ryan was giving an interesting talk how CARP works to build redudant firewalls. He was demonstrating with two firewalls, mounting an nfs directory which contained mp3 files through the firewall and played songs from the band The Plaid Tongued Devils who did the OpenBSD release songs. He rebooted the firewalls alternatingly, and the sound continued playing without interruption. After some more manipulation like plugging the ethernet cables out, Ryan said something like "still not convinced?", grabbed beneath his desk and finally stood there with an axe in his hand! Damn, is he going to kill us because we use CARP too little or what? No, he wants to cut the ethernet cables with the axe to give us the ultimate proof (or the ultimate show? ;). The sound was playing and the audience began laughing, mumbling, and Ryan started to hack on the ethernet cables with an evil expression on his face. People were standing up and running to Ryans speaker desk to take pictures, the cables were cut, brief interruption of sound, *silence*. And there we are, the sound continued playing. The audience was raving and applauding, you could feel the energy of two hundred amazed BSD fellas. That was a cool show and an exciting demonstration.

"Hacker" Ryan McBride at work ;)
After the last Talks and the BOF were finished, the social event called Night Of The Living Dead was waiting for us in a large shrove cellar near the University and beside the pathology hall of the University Hospital :) I picked up about fifty BSD people at 20:00 o'clock at the Hotel Europe and walked with them straight through Basel, leading them to the Night Of The Living Dead, which was a pretty funny looking karawane. We had good food, nice talks, and a lot of beer. HUMPPA!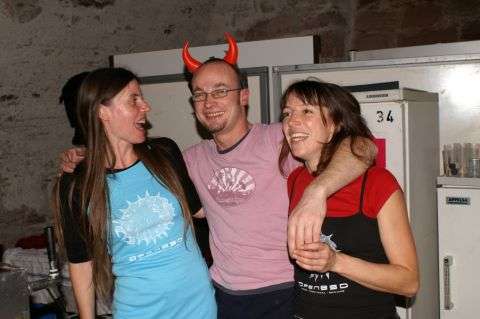 Night Of The Living Dead - The bar keepers also like BSD
Day Three, Sunday
Ok, day three, come on, get serious again! To my suprise when I arrived at 08:55 o'clock on Sunday morning at the Universtiy to unlock the doors, there were already the first people waiting to get in, then we still had more interessant Talks to hear:
The attendees were really busy hunting from one Talk to the other, and checking out stuff at the Exhibitors Desks.
OpenBSD
(
Wim Vandeputte
) was exhibiting Shirts, CDs and embedded devices.
Willystudios
(Massimilliano Stucchi) offered a large collection of
O'Reilly
books and
IT Garage
presented PC Engines WRAP embedded computers.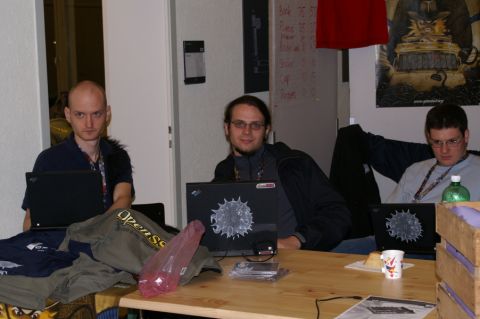 Wim's OpenBSD Exhibitor Desk missused for hacking
The conference ended with the Closing Talk, where Benedikt Stockebrand, Poul-Henning Kamp, Daniel Seuffert, and Wim Vandeputte started an open discussion about the future of BSD and announced the next two EuroBSDCon destinations:
EuroBSDCon 2006, Italy, Milan organized by Massimilliano Stucchi
EuroBSDCon 2007, Daenemark, Copenhagen organized by Poul Henning-Kamp
Final words
The Key Talks were filmed, and interviews were made with some of the speakers talking mainly about the future steps in their projects. Speaker interviews were made with; Claudio Jeker, Henning Brauer, Adrian Steinmann, Ryan McBride, Matthias Hopf, and Matthieu Herrb. The EuroBSDCon 2005 DVD is in production and can be pro-ordered at 2005.eurobsdcon.org soon.
We are happy that we received a lot of positive feedbacks from the attendees and speakers.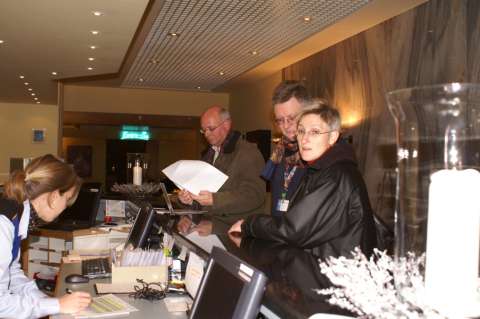 Main EuroBSDCon2005 organizers, Vera and Marc (mbalmer) at Hotel Europe
Thanks to all who made that conference possible and to Marc Winiger for taking the pictures. And a special Thank to Vera Hardmeier and Marc Balmer, the main organizers who had a lot of work, but I'm sure also a lot of fun. We are looking forward to the next EuroBSDCon 2006 in Italy.
---
Comments

Comments

By Marc Balmer (213.189.137.178) on

By fecks0r (80.108.115.184) on

Comments

By Michael Knudsen (217.157.199.114) on

By djm@ (203.217.30.86) on

Comments

By Cheese Worm (68.124.58.147) on

By David (82.53.164.59) d.coppa@bsdgeek.it on

Comments

By niallo (83.147.128.114) on

By Anonymous Coward (195.224.109.30) on

Comments

By pedro (201.17.60.11) on

Comments

By Anonymous Coward (151.136.100.2) on

Comments

By corentin (81.56.152.193) on

By Amir Mesry (208.34.41.180) amir.mesry@cadillacjack.com on

Comments

By Anonymous Coward (81.84.108.38) on

By Tom Van Looy (213.118.238.25) on

Comments

By Anonymous Coward (83.68.230.2) on

By Fábio Olivé Leite (200.248.155.122) on

By Ray (199.67.138.210) on

Comments

By Anonymous Coward (81.56.152.193) on

Comments

By Anonymous Coward (129.93.247.5) on

By Janne Johansson (130.237.95.193) jj@inet6.se on

By m0rf (68.104.17.51) on

Comments

By Janne Johansson (130.237.95.193) jj@inet6.se on